Heartworm is a potentially fatal disease caused by infection with the parasite Dirofilaria immitis. This parasite is transmitted by the mosquito. Once your pet is infected the parasite matures and grows causing illness by damaging the heart and lungs.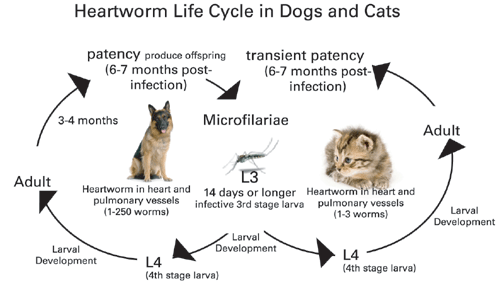 Although signs are not always evident they can include:
weight loss,
lethargy,
reduced exercise tolerance,
coughing
Regular heartworm testing is strongly recommended to ensure that your pet has not become infected in the past. While current heartworm preventives are very effective, infection can occur for a variety of reasons including missed doses and inappropriately administered medications.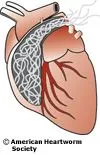 Preventive medications protect your pet by preventing the maturation of any heartworms that your pet may have been infected with. Some of these preventives may also provide protection against intestinal parasites, fleas and ticks.

Cats can be infected with heartworm. Although cats are more resistant hosts it is a good idea to discuss the available heartworm tests for cats with us so you can make an informed decision.

Heartworm with Wellness testing is extremely valuable in protecting your pet's Health.

Along with heartworm testing, regular fecal exams and wellness tests help your veterinarian evaluate your pet's overall health.

Fecal Examinations
Fecal examinations are used to identify the presence of intestinal parasites in your pet. Intestinal parasites pose a risk to your pet's health and to the health of your family as some of these parasites are zoonotic, meaning they can be transmitted to people. The Companion Animal Parasite Council (CAPC) recommends the regular administration of parasite preventive and fecal exams 1-4 times per year depending on the age and lifestyle of the pet and its family.

Wellness Testing
Wellness testing involves evaluating a small blood sample, which will be obtained when collecting your pet's heartworm sample. Organ function can be assessed and your pet's red and white blood cells can be evaluated depending on the wellness test you choose. Many indicators of disease can be detected including abnormalities of kidney, liver, heart, thyroid and pancreatic function. These test results will also remain in your pet's file to be used as a baseline for comparison with future wellness tests or blood work in the event of injury or illness.

Want more info? Click these links:
The Companion Animal Parasite Council (CAPC)
American Heartworm Society
American Animal Hospital Association (AAHA); Healthy Pet